Note: Adapted from GracefullyFrank.Blogspot.com, August 6, 2012
On Saturday, I went to prison. It was the kind of prison with razor wire and fences and armed guards. Prison is a place I've never wanted to go. I had the opportunity to be part of the small team allowed to go with the founder of the ministry I work for. You could call the women there inmates, convicted felons, murderers, embezzlers, prostitutes, or conspirators. However, as I learned on Saturday, you could also call them daughters, sisters, wives, mothers, and friends. Going to the prison is definitely something about which I would have said, "I'm not called to do that" (usually translated: I don't want to do that). When will I learn?
It may look good on a spiritual resume to be able to type "Prison Ministry," but if it is out of my desire to perform a work, and not out of love for the broken and hurting, then I should stay home. I wasn't broken or hurting for them. I may have felt sorry for them, but mostly I was just going on a righteous fieldtrip. Most other "religions" have a do-good-to-others list of activities, ultimately for the self-benefit of good coming back to you. Some Christians get stuck on a list of dos and don'ts, not realizing that as Jesus changes our hearts, He changes our behaviors. We don't have to be strong enough to please Him; it's kind of the opposite. He wants my heart, not my works, not perfection—just my heart. Maybe God is teaching me to love like He loves, instead of just how I want to love.
On Saturday, I went to prison…
Prison officials sent us a list of "Dos and Don'ts" that included what kind of shoes to wear in case we needed to run. Don't wear a lot of jewelry. Don't wear khaki. Don't touch the inmates. Don't ask them why they are in there. Don't ask them about their medical conditions. The officials had to send the list to prepare us, and to keep things safe, but it was a little unsettling. I tend to play out worst-case scenarios in my mind. In fourth grade, I used to plan through what I would do if Russian parachutes started dropping on the Liberty Elementary playground. I would crawl up in the cubby behind Mrs. Hanby's desk and wait until nightfall. Then, making my way to the railroad tracks through the drainage ditch by the park, I would meet up with Patrick Swayze and any other Liberty Leopards who made it out. Mostly just daydreams, but had the Russians ever dropped on Ponca City, Oklahoma, during my fourth-grade year, I did have a plan. I thought through a plan for things at the prison, too. Again, mostly not serious, but a mix of Die Hard, Walker Texas Ranger, and Nicholas Cage in The Rock offered a tentative plan of escape. And again, I don't know if it would have worked.
I guess I thought the women would be so different from me. In a lot of ways they were, but in all the ways that matter they weren't. When we walked in, all the women were already seated. Close to 300 of them stood and started clapping. We took our seats in the front row, treated as honored guests. They loved June Hunt and the hope she has shared with them for over 25 years.
Then, to my heartbreak, they began their ministry to us. Women with their faces painted with different mime-like makeup to represent their individual characters sat in chairs already at the front of the audience. The chairs had signs on them that read: Liar, Robber, Killer, Suicidal, Abortion, Confused, Adulterer, and Atheist. Then they did a performance dance to this song:
What If? – Mirella and Kanto (song by James Fortune)
These women I would have called inmates, I left thinking of as sisters whom Christ came to love and set free. They laid their sins bare and asked through this song:
"Would He love me?"
"Would He forgive me?"
"Would He save me?"
"Would He dare to use me?"
The answer for Jesus is yes. Always yes. The answer for me hasn't always been so consistent. In prison, He showed me His love for them, and for me.
As they danced and I cried, He showed me something else: Prison is their freedom. I began to see that God used this prison to set them free. Of course, prison comes with its own pain, yet based on the love and thanksgiving they displayed in front of us, that prison is their gracious wilderness leading to their victory in Christ. They are still suffering the consequences in this life, yet being set free of the chains that have bound them, and accepting there is hope beyond their sentence.
I have been pondering: What prison is my freedom? What prison is your freedom? Is it depression that has you bound? Is it addiction? Is it grief? Is it failure? Is it rejection? I'm not an inmate at a women's prison, but I have experienced the prisons of consequences of my own actions that have bound me, and looking back graciously, forced me to be still. God in His mercy may imprison us to protect us from ourselves, so we may be saved, redeemed, and freed into new life. Less like prison, more like shelter. Time to heal. Time for truth. That is the picture I saw on Saturday—new life, not hopelessness. Sometimes He will allow us time in the wilderness, He will touch our hip out of socket, and He will allow the consequences to provide an opportunity for us to turn back in repentance to where our heart belongs.
You may wonder how a loving God could allow the prisons. But how could a loving God not? How could a loving God leave any stone unturned, even a stone that may be thrown at us, if it would lead to salvation? Why would He take away the desperation that leads us to Him? It's important to know, we can avoid prison. It's also important to know that when we don't, one day He will open the door and set the captives free. And it's most important to know that day can always be today, from the inside out, whether the bars of our prison are literal or not. Amazing Grace.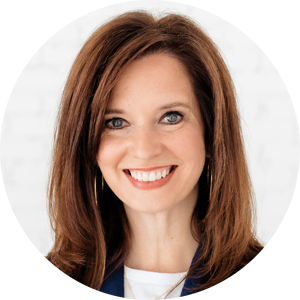 Haley Scully, MA, is the Vice President of Strategic and Ministry Projects with Hope for the Heart. In 2011, she began her work in the ministry's counseling department before moving into the international work. She serves to develop partnerships, coordinate resources and distribution methods, and provide basic counseling and care ministry training for church leaders and parachurch organizations in over 25 countries around the world. Haley concurrently helps provide leadership for professional development initiatives that include training and resourcing Christian caregivers, life coaches, and counselors. She earned her Bachelor of Science degree in Communications from Oklahoma State University and Master of Arts in Marriage and Family Counseling from Southwestern Baptist Theological Seminary. Haley is passionate about connecting hurting hearts to hope in Christ and the practical application of God's Word to their everyday lives. She is a speaker, author, trainer, and serves as a guest host on June Hunt's live, one-hour, call-in counseling program, Hope In The Night.