Eric Scalise, PhD
"'For I know the plans I have for you,' declares the Lord, 'plans to prosper you
and not to harm you, plans to give you hope and a future.'" (Jeremiah 29:11 NIV)
Life Coaching is a rapidly emerging field of professional practice. Yet, coaching is also finding its way into Christian organizations, the broader Church at large, and is gaining popularity among a growing number of believers. Interest ranges from ministry and faith-based applications, to business and corporate environments and clients. Let's take a closer look at the distinctives associated with Christian Life Coaching.
The History of Life Coaching
Coaching is frequently linked to sports related activities and some suggest the concepts of coaching go all the way back in history to the Master-Apprentice relationships that existed among many of the early trades. From the 1940s to 1970s, numerous businesses and corporations sought out organizational psychologists in an effort to improve the overall productivity of their workers. Life coaching came into its own as a movement in the 1990's and has since exploded into a multibillion dollar global industry. It is now the second fastest growing profession in the world after information technologies. Dr. Gary Collins was an early pioneer in the world of Christian Life Coaching. In his revised book, Christian Coaching: Helping Others Turn Potential into Reality (2009), he states coaching is the, "art and practice of enabling individuals and groups to move from where they are to where they want to be."
According to the 2020 International Coach Federation's (ICF) Global Study, there are over 70,000 certified life coaches worldwide (a third who practice in the United States), of which approximately two-thirds are women. This represents a 33% increase since 2015. From a generational context, Generation X (born from 1965–1980) accounts for the majority (61%) of managers/leaders using coaching skills. The remaining coaches are equally split between Millennials (born early 1980s to early 2000s) and Baby Boomers (born 1946–1964). The personal coaching market in the United States was worth $1.08 billion in 2017, up 6.5% from the prior year, and the total market is forecast to grow at a 5.4% average annual pace, to $1.38 billion by 2022.
The Focus and Purpose of Life Coaching
The primary focal point of life coaching is on future performance and outcomes. It is therefore more proactive, solution-focused, collaborative, and forward-oriented in terms of personal and/or professional growth than traditional counseling and other mental health services. Psychotherapy tends to address past issues with the goal of symptom reduction, trauma work, and problem resolution. Coaches, on the other hand, endeavor to help unlock a person's potential in order to maximize their performance, set and attain appropriate goals, and improve overall functioning in life. Some see this as a facilitation of learning and growing versus an overt teaching model. The change process is often viewed as having both a motivational and behavioral mindset where clients are not seen as individuals who need to be to be "fixed," but those who have a capacity to envision and intentionally move toward new and higher goals. This indicates coaching is more about growth and not necessarily about clinical assessment, diagnosis or healing. Rather, it is a movement toward a healthier maturity instead of an unhealthy dependence on other things or people.
Colleges and universities are also increasingly gravitating toward Life Coaching degree programs, both at the undergraduate and graduate levels, and because life coaching is basically an unregulated field, coaches place a high value on education, training, certification, and credentialing. Unlike licensed mental health practitioners, there are few if any restrictions or issues pertaining to regulatory protocols, third party reimbursement, fee structures, providing digital/electronic services via the internet, or intrastate commerce.
Core Foundations of Christian Life Coaching
The concepts of life coaching are sometimes intermingled and integrated with other similar approaches to people helping such as spiritual formation, mentoring, discipling, consulting, and counseling. While there are clearly several overlapping paradigms, life coaching is primarily an "inside-out" process, wherein the coach seeks to draw out of a client his or her passions, giftings, and a greater awareness of God's calling. Solomon understood this reality: "The purposes of a person's heart are deep waters, but one who has insight draws them out" (Proverbs 20:5 niv). These other orientations have more of an "outside-in" orientation where there is a greater emphasis on teaching, instructing, modeling, guiding, and building skills.
By using Biblical values, Christian Life Coaches should always pursue the primary ethical and core principle to: Honor God in All Things. A secondary principle is to assist clients in setting and achieving individualized Christ-centered goals through a dynamic and collaborative partnership that addresses the whole person. Proverbs 29:18 says, "If people can't see what God is doing, they stumble all over themselves; but when they attend to what he reveals, they are most blessed" (MSG). Christian Life Coaches are considered trusted role models and safe accountability partners who facilitate God-honoring growth by equipping, empowering, and encouraging others.
They help people—through the agency of the Holy Spirit—shape new vision and plans, create a sense of purpose, and establish appropriate goals and objectives to generate desired results. A Christian Life Coach is trained and devoted to making godly disciples and guiding others into greater competence, confidence, and commitment, so that by faith, clients can say, "Not that I have already obtained all this, or have already arrived at my goal, but I press on to take hold of that for which Christ Jesus took hold of me. Brothers and sisters, I do not consider myself yet to have taken hold of it. But one thing I do: Forgetting what is behind and straining toward what is ahead, I press on toward the goal to win the prize for which God has called me heavenward in Christ Jesus" (Philippians 3:12-14 NIV).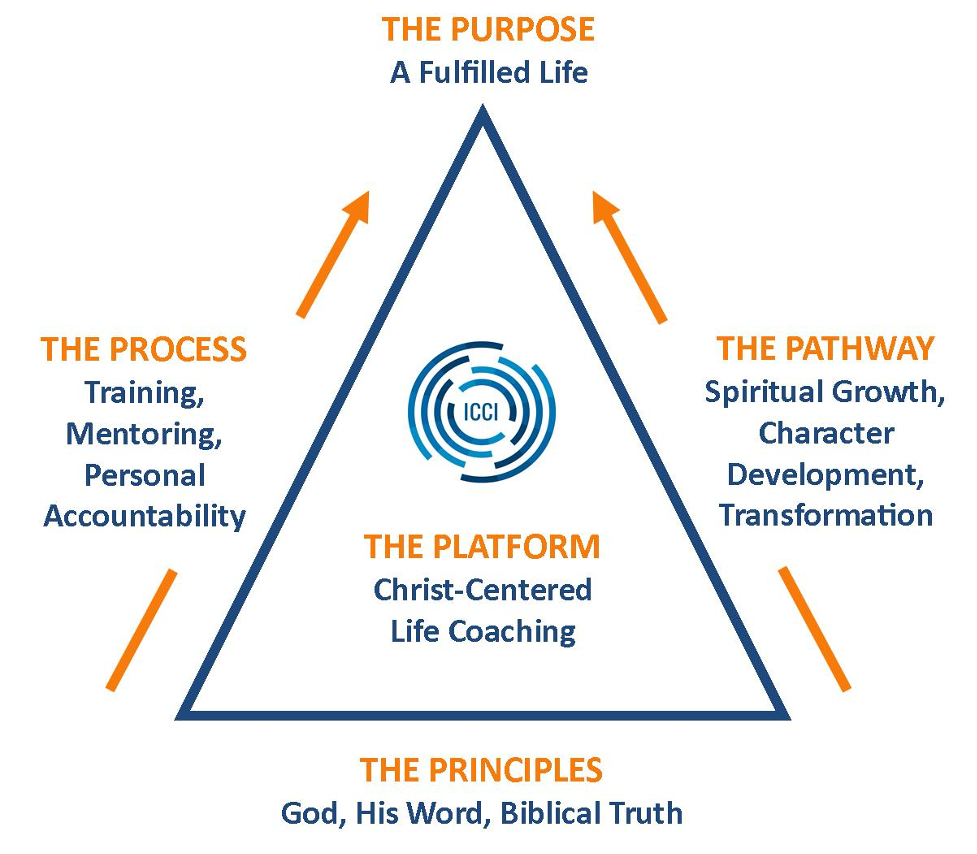 The Goals and Process of Christian Life Coaching
The focus of Christian Life Coaching is to help clients set and reach their goals, maximize their potential, and step more fully into their God-given calling. Finding solutions is a results-oriented systematic progression and although life coaches act as facilitators to help unlock potential and gifting, it is the client who primarily guides the process. In that regard, life coaches aid learning and development through active experiential discovery, more so than merely "teaching" a method or approach. The key here is to understand coaching as a journey that takes place over time through a relational alliance between the life coach, the client, and the Lord. Critical to the outcome is providing a safe and trustworthy environment through an authentic relationship that allows a client to hear from and cooperate with the Holy Spirit in his or her life.
The benefits of accountability allow the coach as a leader to become a change agent as clients are being equipped. The Greek word for "equip" is katartizo and it means to complete or mend. It is the same word used when describing a broken bone being set or in the Gospels when it speaks of the disciples as they were "mending" their torn nets. "The body of Christ being built up until we all reach unity in the faith and in the knowledge of the Son of God and become mature, attaining to the whole measure of the fullness of Christ" (Ephesians 4:13 NIV). In essence, the equipping process is to help make or restore something so it is once again functional and fulfilling its original or intended purpose.
As Christ followers, we are to be in the world, but not of it . . . not conformed, but transformed as declared by Paul in Romans 12:2, "Do not conform to the pattern of this world, but be transformed by the renewing of your mind. Then you will be able to test and approve what God's will is—his good, pleasing and perfect will" (NIV). We should think, act, and subordinate our emotions according to the dictates and principles of Scripture, always seeking alignment with Biblical truth in our coaching activities. "The whole Bible was given to us by inspiration from God and is useful to teach us what is true and to make us realize what is wrong in our lives; it straightens us out and helps us do what is right. It is God's way of making us well prepared at every point, fully equipped to do good to everyone" (2 Timothy 3:16-17 MSG). This is not the same thing as "spiritual" coaching, which may include beliefs and practices from other religions. Jesus said, "I am the way and the truth and the life" (John 14:6 NIV).
In one sense, God allows the Christian Life Coach to be His optometry assistant when people need to have their "vision" checked, partnering with Him in the change process. Some clients are nearsighted. They can only see what is right in front of them, yet ignore almost everything else all around. Others are farsighted. It becomes everyone else's fault or problem, but they fail to take personal responsibility when it is called for or really needed. And finally, some are simply blind. When God is allowed to correct a person's vision, then, and only then, will they be able to see what He sees. And if God can use life coaches for this purpose, then others can more effectively become His eyes, His ears, His hands, His feet, and His voice to a world desperately looking for hope and answers.